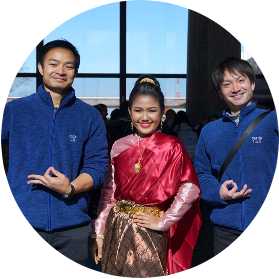 設置コースについて
進学コース ・2年コース(4月生)
・1年コース(4月生)
・1年9ヶ月コース(7月生)
・1年6ヶ月コース(10月生)
・1年3ヶ月コース(1月生)
一般コース
日本に在留している方のコース
短期コース
グループでの短期日本語研修も承って
おります。詳しくは当校事務迄ご連絡ください。
School Courses for International Students (Applying for Student VISA) 2 years course (April start) 1 year course (April start) 1year 9 months course (July start) 1 year 6 months course (October start) 1 year 3 months course (January start) General Students Course For people already have VISA and residing in Japan. Short Term Course We welcome short-term Japanese group training. Feel free to contact our school office for further information.

使用テキスト
初級
入門オリジナル教材、みんなの日本語副教材
みんなの日本語初級1・2等
中級
中級を学ぼう、N2完全マスター文法対策、毎日の聞き取り、
漢字問題集日本語能力試験問題集 等
上級
上級で学ぶ日本語、テスト問題集、生教材、 留学試験問題集
朝日新聞を読む聞く・書く、日本語能力試験問題集 等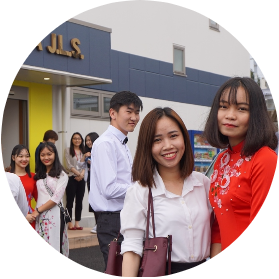 Primary Class Original training materials, Minnano Nihongo 1・2, Minnano Nihongo(supplementary materials) , etc. Intermediate Class Chuukyu wo Manabou, N2 Kanzen Master Bunpo Taisaku, Listening, Kanji exercise book, Exercise for Japanese Language Proficiency Test, etc. Advanced Class Jyokyu de Manabu Nihongo, Read and write Asahi News paper, Exercise for Japanese-Language Proficiency Test and Nihon Ryugaku Test, etc.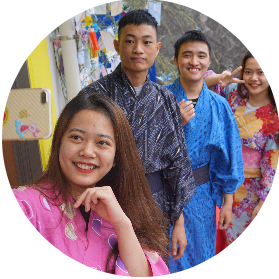 進学指導について
みなさんの希望が叶えられるよう、
随時進学説明会や個別に進学相談を行っております。
各大学、大学院、専門学校の資料も豊富に用意し、
常時閲覧することが可能です。
We occasionally have individual counseling and meetings for further educational guidance. Information catalogs for many universities, graduate schools, and professional training colleges are available for browsing anytime.

推薦入学について
成績が優秀で生活態度が良い学生には、本校と指定校推薦の締結をしている各大学・大学院・専門学校に推薦いたします。
(大学) 敬愛大学・城西国際大学・第一工業大学・秀明大学・日本経済大学

(短期大学) 山野美容短期大学・日本経営短期大学

(専門学校) 読売理工医療学校・読売自動車大学校・駿台ホテル&トラベル専門学校・駿台電子情報専門学校・駿台観光外国語専門学校・王子経理専門学校・東京テクニカルカレッジ・東京工科自動車大学校・米山ファネス専門学校・日本理工情報専門学校・明生情報ビジネス専門学校・国際トラベルホテルブライダル専門学校


We offer recommendations for students with excellent grade and proper behavior to designated universities, graduate schools and professional training colleges.

(Universities) Keiai-University, Josai International University, Daiichi Institute of Technology, Shumei University, Japan University of Economics

(Junior Colleges) Yamano College of Aesthetics

(Professional Training Colleges) Yomiuri Institute of Technology, Yomiuri College of Car Mechanic, Sundai Travel & Hotel College, Sundai Computer College, Tokyo Technical College,Meisei Institute of Cybernetics,International Travel Hotel & Bridal College

進学実績のある大学院・大学・専門学校
(大学院)
早稲田大学・筑波大学・埼玉大学・茨城大学・芝浦工業大学・日本大学・城西国際大学 等
(大学)
国士舘大学・文化女子大学・亜細亜大学・秀明大学・城西国際大学・東京情報大学・日本経済大学・日本短期経営大学・駒沢大学・拓殖大学・成安造形大学・愛国学園大学・敬愛大学・麗澤大学・千葉科学大学・明海大学 等
(専門学校)
読売自動車大学校・ハリウッドビューティー専門学校・駿台ホテル&トラベル専門学校・王子経理専門学校・東京マルチメディア専門学校・グレッグ外国語専門学校・渋谷外国語専門学校・中野スクールオブビジネス専門学校・デジタルアーツ東京専門学校・富士国際ビジネス専門学校・日本装飾美術専門学校・TES英語専門学校・東京日建工科専門学校・東海学院文化教養専門学校・国際ホテル&トラベル専門学校・駿台電子情報専門学校・成田国際福祉専門学校・千葉モードビジネス専門学校・日本自動車大学校・国際トラベルホテルブライダル専門学校・明生情報ビジネス専門学校・日本グローバルビジネス専門学校・上野法科ビジネス専門学校 等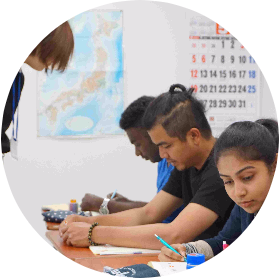 (Graduate school)
Waseda University, University of Tsukuba, Saitama University, Ibaraki University, Shibaura Institute of Technology, Nihon University, Josai International University
(University)
Kokushikan University, Bunka Gakuen University, Asia University, Shumei University, Josai International University, Tokyo University of Information Sciences, Japan University of Economics, Komazawa University, Takushoku University, Seian University of Arts and Design, Aikoku Gakuen University, Keiai University, Reitaku University, Chiba Institute of Science, Meikai University
(Special Training School)
Yomiuri College of Car Mechanic, Hollywood University of Beauty & Fashion, Sundai Travel & Hotel College, Gregg International College, Shibuya Institute of Foreign Languages, Nakano School of Business, Fuji International Business College, Nihon Institute of Decorative Art, Tokyo Nikken Institute of Technology, Tokyo English Specialists College, Tokaigakuin Liberal Arts College, Nrita International College, Chiba Mode Business College, Nihon Automobile College, International Travel Hotel & Bridal College, Meisei Institute of Cybernetics, Nihon Global Business College, Ueno Law & Business College